Want to know the best way to entice people to buy your course? Give them a coupon. A coupon is a discount that people can use to either save a percentage or a specific dollar amount on your courses. What more is it can be used as a marketing tool to get more people to buy your courses.
How do you create a coupon on Teachable? To create a coupon in Teachable click on the course you want to create a coupon for. In the right sidebar click coupons, then click a new coupon. Then click this course only. Next set a price, create a coupon code, create an internal name, set an expiration date, and the amount available. Finally, hit create coupon.
Now that you have a basic understanding of how to create a coupon with Teachable in the rest of this article we're going to go into a deep dive on how to create a coupon for your course and even promote it your audience.
How to Create a Coupon on Teachable
Creating a coupon code is actually a very easy process to do. This simple tutorial will walk you through the process step by step and show you exactly how to set up a coupon for your next course on Teachable.
#1 Create a Coupon
To start go to your Teachable admin account. If you're not signed up for Teachable yet you can can sign up for a free account here. Once inside the the admin dashboard click on the course you want to add the coupon to.
Once in your course admin click on coupons.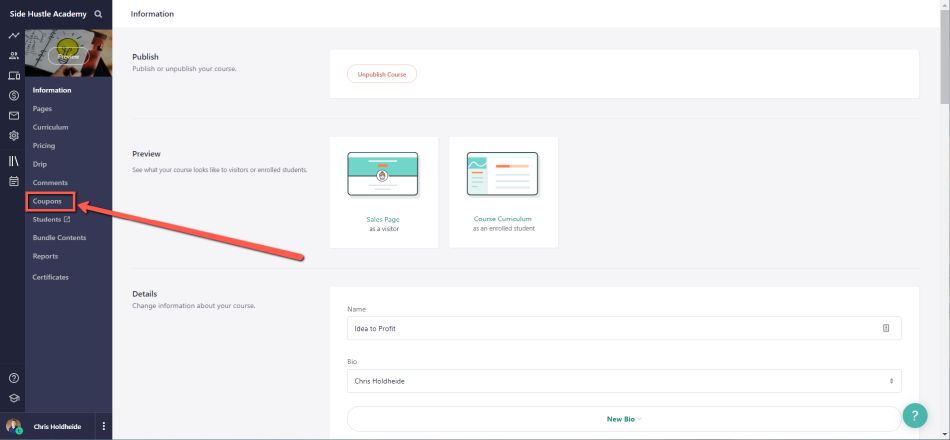 For this example, I'm going to create a coupon for my course Idea to Profit that you can check out as an example.
Once you click on Coupons you'll see a page that looks something like this below. Just click on New Coupon.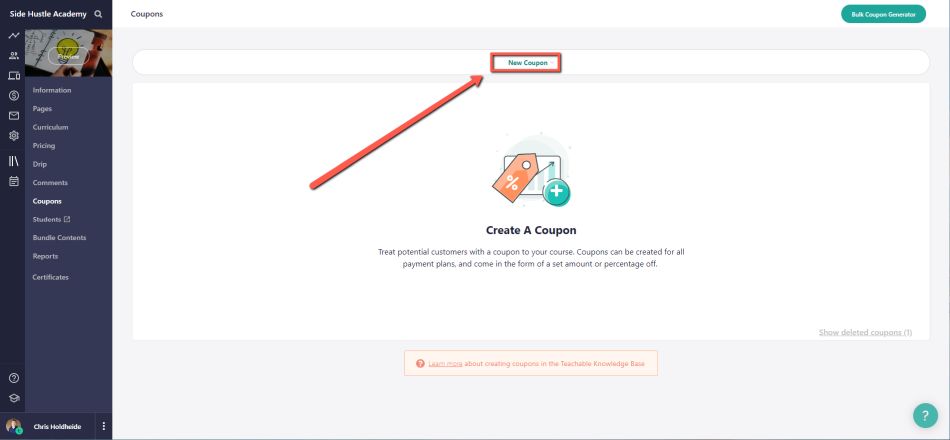 From there you'll get a drop down that will ask if you want to create a coupon for just this course or for all of your courses. In this example I'm just going to create a coupon for this course.
Now I might create a coupon for all of my courses in certain situations like a Black Friday Sale or for a group of courses I'm selling but in most cases I just create them for each individual course.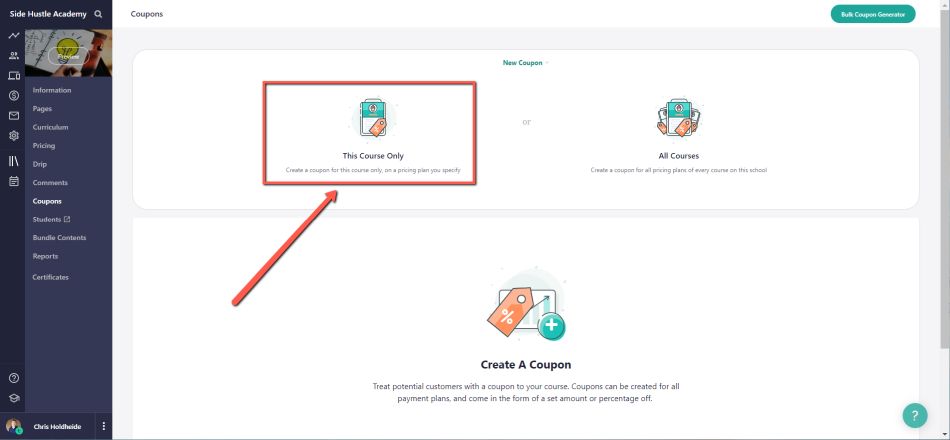 Once you click on that you should get the main coupon form.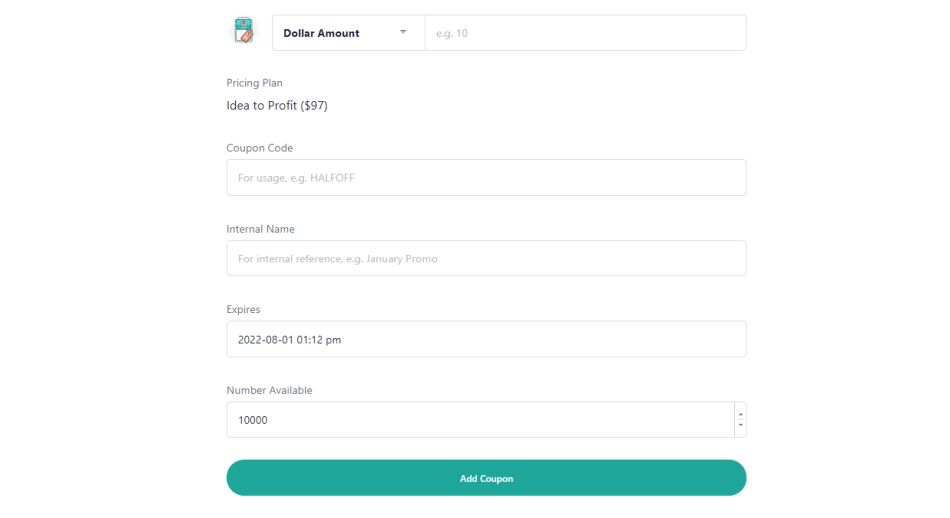 From here we are going to talk specifically about the form itself and the strategies and promotions you'll be able to with this powerful tool.
#2 Set a Price
Your next step is to set the discount price. You can do this in one of two ways. The first is to do a certain dollar discount. So you could do a $25 discount or what every you prefer.
You can also set a percentage discount like a 25% discount. So take a moment now to come up with a discount you want to offer.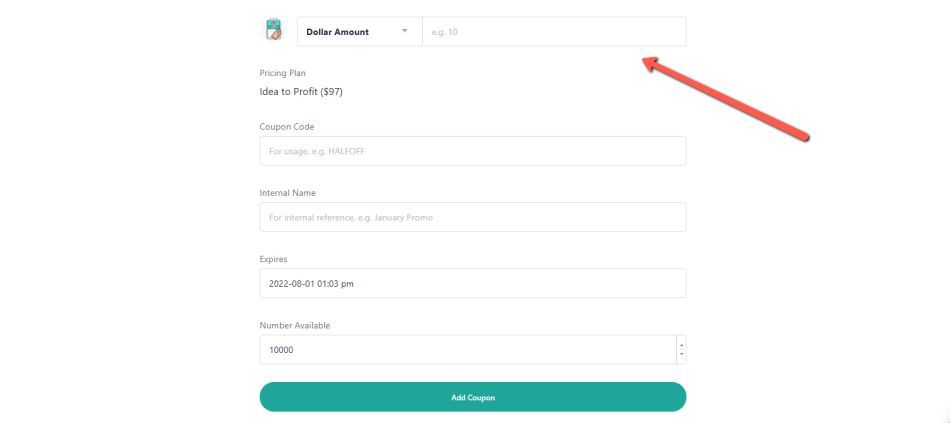 I will share more tips at the end of this article as to how to promote your coupons and get more sales.
#3 Create a Coupon Code
Next you'll need to create a code for your coupon. This is the code people can use to get the discount. In my case I used HALFOFF. However you can get creative with this as well. For example if you're running a fourth of July sale you could make it JULY4 to get 40% off.
So take a moment now and create your coupon code.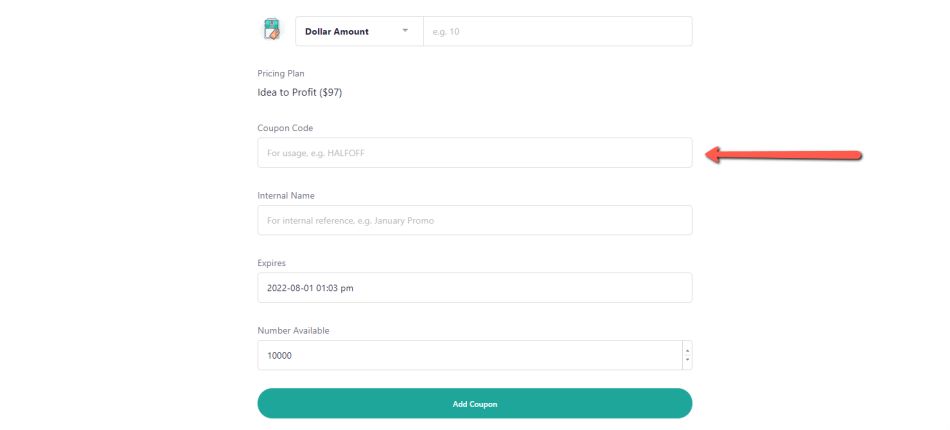 #4 Set an Internal Name
You'll also want to set an internal name for your coupon code. The internal name is to help you understand more about the coupon and what it's for.
For example, the coupon I created was Idea to Profit Half Off. Having this lets me know what the coupon is and what it belongs to. So take a moment and set an internal name to your coupon.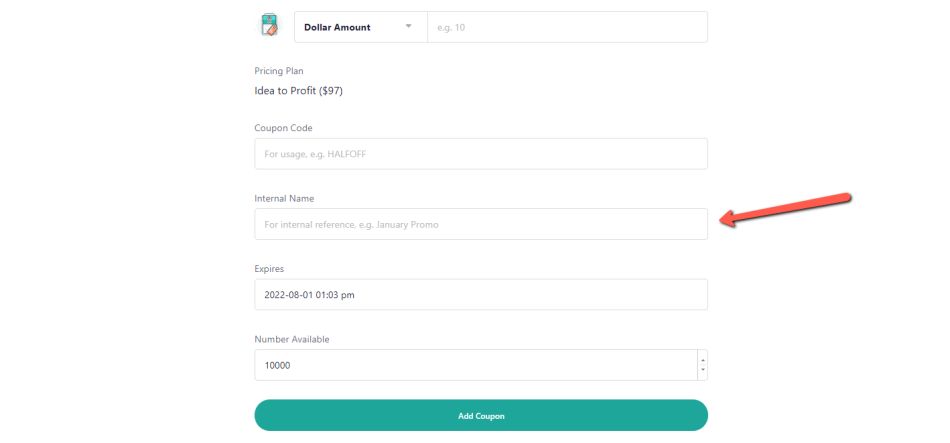 #5 Set an Expiration Date
Next you'll want to add an expiration date to your coupon. This comes in handy if you're running a coupon for a short period of time. For example, if I'm doing a Black Friday sale I could have it start at 8:00am Friday morning and end at midnight on Cyber Monday,
If an expiration date is not important then just set the date a point a few years into the future. So take a moment and set you expiration date for your coupon.
#6 Determine the Number Available
You can also set the number of available coupons students can get. This comes in handy to limit the number of students who can take advantage of this opportunity. It also works great in your marketing when you say that only 10 people will be able to get this deal before it's gone.
Having this kind of leverage will push more people to take advantage of your offer than if you'd only have it listed at your normal price.
So take a moment and decide how many people can take advantage of the deal.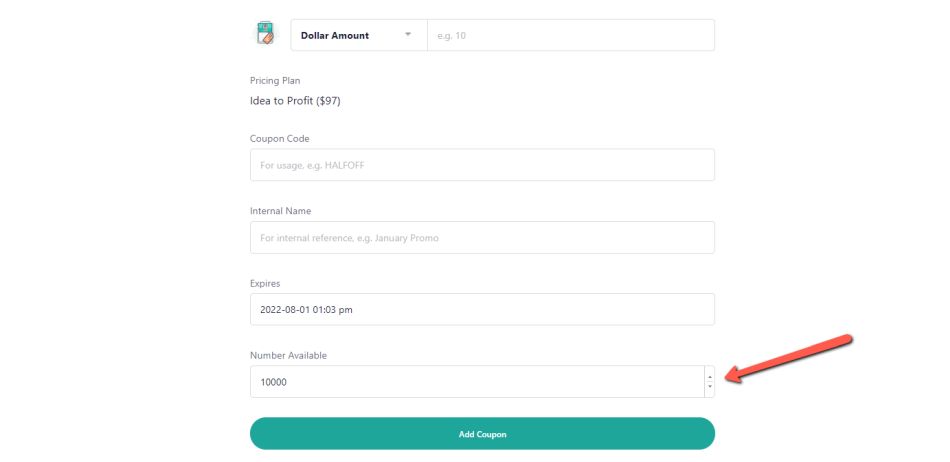 If you don't have a certain amount you're giving away just set it to a high number to give as many people as possible to get the deal. Once you've got the number set click Add Coupon, and you should get a page that looks like this below.

Once you have the coupon created you'll want to check it out to see what it looks like. To do this click the Preview button to see what your page looks like with the coupon. You can see what mine looks like here.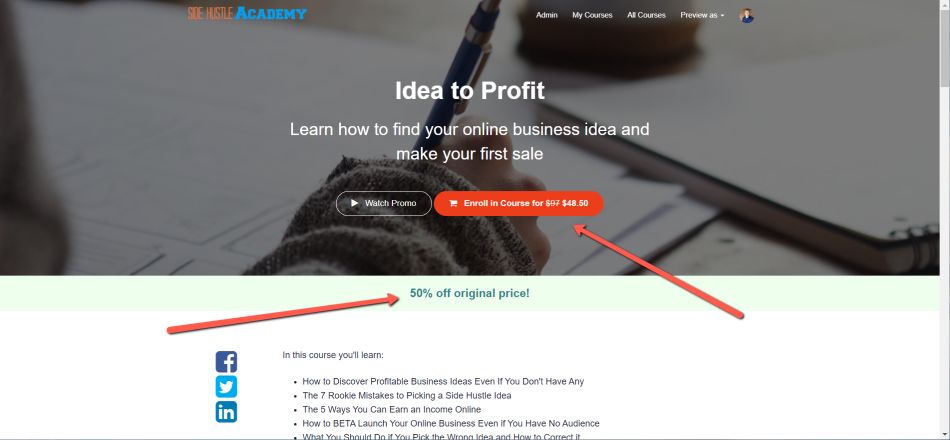 #7 Promote Your Coupon
Now that you have your coupon created you're only halfway done. Now you need to promote your coupon to students. In this final section, I'm going to share a few tips you can use to promote and sell more courses with your coupons.
Tip 1: Don't Offer a Coupon all the Time Unless…
The first tip is not to offer a coupon on your course all the time. If you do it all the time people will become numb to the idea that you have a coupon.
However if you have several courses this doesn't mean you couldn't offer it on a different course that you have. For example, if you have 10 courses you could offer a discount on one course this week and next week you could offer a different discount on another course next week.
You could also group a few courses together and put a coupon on that. The point is you don't want to offer a coupon on the same course all the time.
Tip 2: Put a Limit on What You Sell
Next, you'll want to put some sort of limit on what you are selling. When you put a limit on something it will more than likely push people to buy. There are two main ways to put a limit on what you're selling.
Set an Expiration Date – This is where you set an end date of when the coupon will end.
Set a Limit of So Many Sales – This is where you only allow so many people to buy your course.
In my case I like to offer a new course coupon each week either on one particular course or on a group of courses. So each week I'm promoting something new.
Tip 3: Build a List and Promote to It
When you own a course you're going to want to have an email list that you can promote it to. I use Convertkit for my email list. Sign up for a free Convertkit account here.
Email is one of the most powerful ways to promote and sell your courses. Every week you should be sending regular emails to your audience to buy your course.
What I like to do is send helpful emails that provide valuable content and then sell in the P.S. section of the email. So my P.S. section might go something like this.
P.S. Just a quick reminder my sale on xyz course ends Sunday Night. Click here to get it now and save 30%.
On Sunday I might send a few emails telling people that my sale ends tonight and be more direct in those emails.
Tip 4: Promote it With a Twist
Number four on the list to promote your course coupon with a twist. The best way I like to do that is to put a notification bar on my website. A notification bar is a great way to new and relevant info out to your audience.

Here is a great article that covers a few different notification bars you can check out.
A notification bar will put a strip at the top of your website where you can promote a special sale or opt in people can get right now.
Tip 5: Don't Give Huge Discounts
Finally, the last tip is not to give a huge discount every time. For example, I might give a 20% discount on one particular course during a regular promotion but at special times such as Black Friday, I might do a 50% on all of my courses.
I also like to give discounts based on things going on that relate to my audience. This all depends on your audience and what they their industry is like.
Here are a few examples of the types of discounts you could give.
New Years
Christmas
Black Friday
Cyber Monday
Fourth of July
Labor Day
Mothers Day
Fathers Day
Super Bowl
World Series
Back To School Sale
Thanksgiving
Holloween
This is just the tip of the iceberg. If your industry has a special conference each year you could do a special sale for that. You could literally do a sale for almost anything,
One idea I had was to do a pandemic sale. People are short on cash and you could do a sale to help them out so they have the opportunity to buy one of your courses.
So take some time and write out a list of coupon ideas you could run and start promoting your coupons and making more sales.