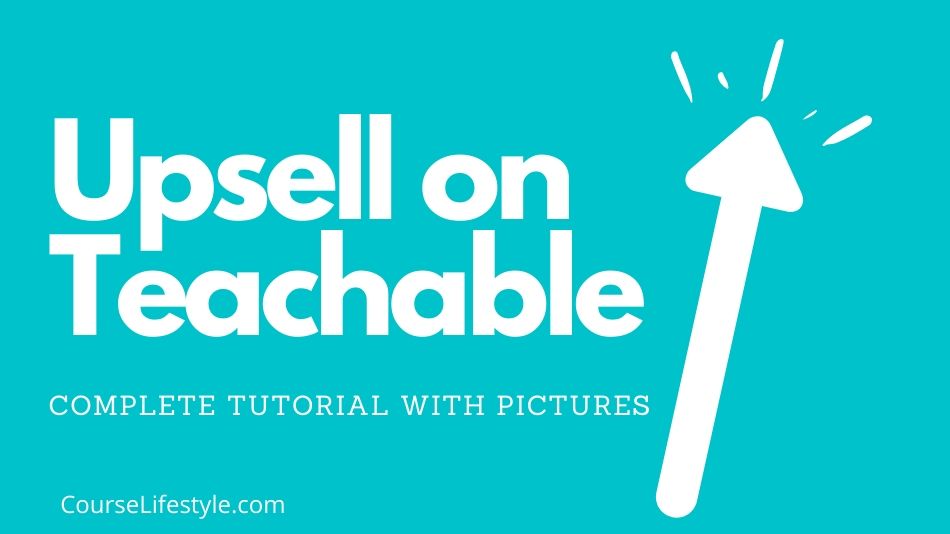 Want to know the number one rule for selling courses? When you're selling one thing make sure you have something else to upsell them. Upselling is a way to generate extra sales on your courses by selling extra courses or products to your students that naturally add on to your original product.
So how do you upsell on Teachable?
Select a product and set up a Thank Page in Teachable to upsell a product on
Set a Page Title to let people know you have something else for sale
Embed a promo video to peak students interest
Select a price for your upsell
Hit Save and start upselling
Now that you have a basic idea of how to upsell using the Teachable platform the rest of this article is going to dive into the specifics along with a few detailed pictures to help you get it all set up.
How to Upsell On Teachable
One of the easiest ways to grow your course business without creating more courses is to upsell them to other courses and products that you already have. In this tutorial I'm going to show you how to set all of this up.
#1 Select a Product and Set Up Your Thank You Page
The first step to doing an upsell is selecting a course that you want an add an upsell to. In order to do an upsell you need to have at least two courses. It also helps if the course you're upselling is closely related to the initial course they are buying.
Side Note: The course also needs to be a published course. You can't upsell an unpublished course.
To start go to your Teachable dashboard and click on the course that you want ta add an upsell to.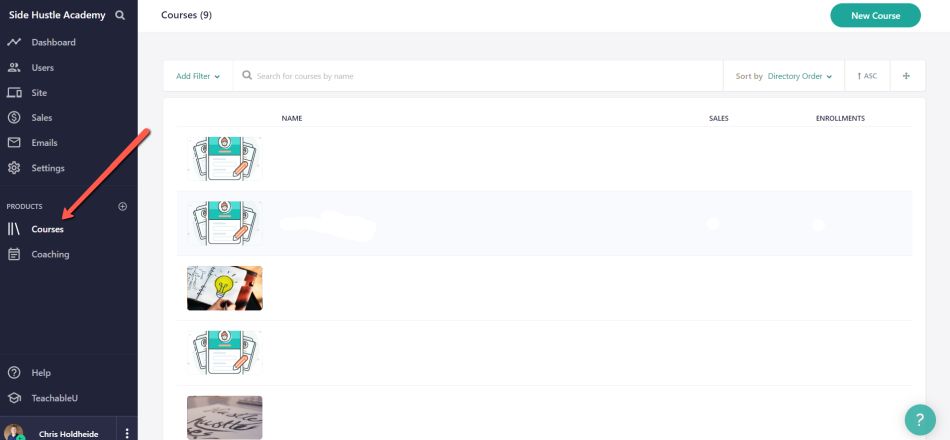 Once you have a course you've chosen to add an upsell to you need to go to the Thank You Page to add the upsell. To do this click on pages and then click on the edit button to add the upsell.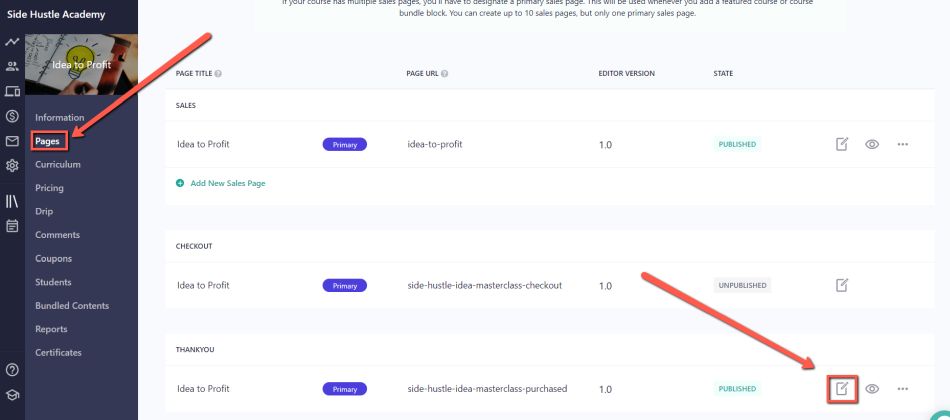 Logically this is where you can find the upsell option for every course you plan to add this to. Personally it took me a while to find this because unless you're not looking for it, it can be hard to find.
Once you're on the next page scroll down to the bottom of the page and click on the tab that says Upsell Offer.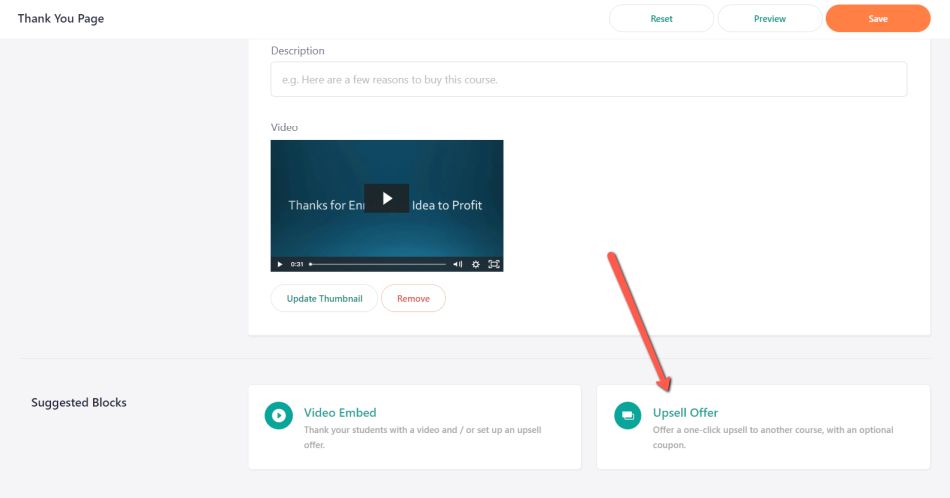 Once you've added the Upsell Offer section to your Thank You Page you need to select the course you plan to upsell. Click the selection tool and pick the course you wish to upsell here.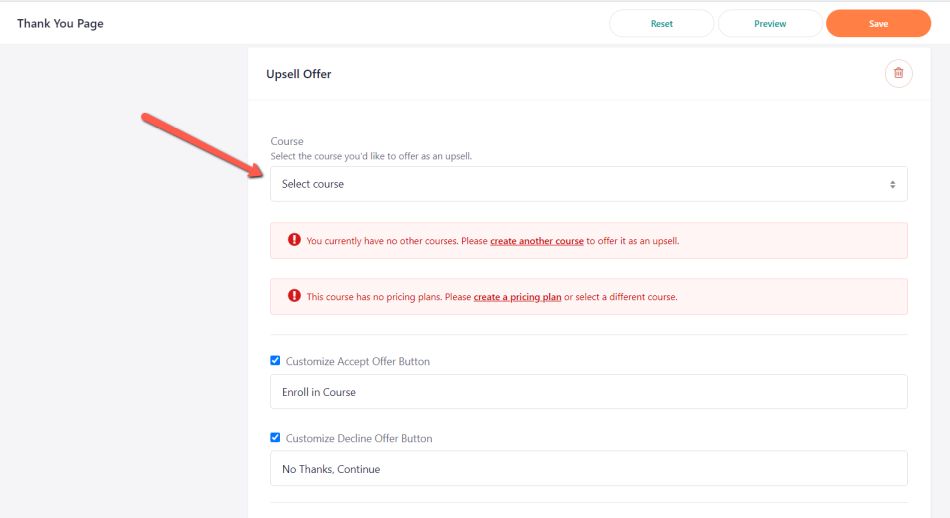 #2 Set a Page Title
Once you've selected the course you plan to add the upsell offer to you need to add a page title . This is one area that is often overlooked. A lot of people will just put thanks for signing up for my course or something like that.
The problem with that is that the upsell will a lot of times be pushed below the fold of the page. This is where the web page ends at the bottom of your screen.
The title at the top of your page lets them know you have more to offer and invites them to scroll down to see what else you have.
Below is an example of the title of one of my upsell pages. You can find this by scrolling to the top of the page.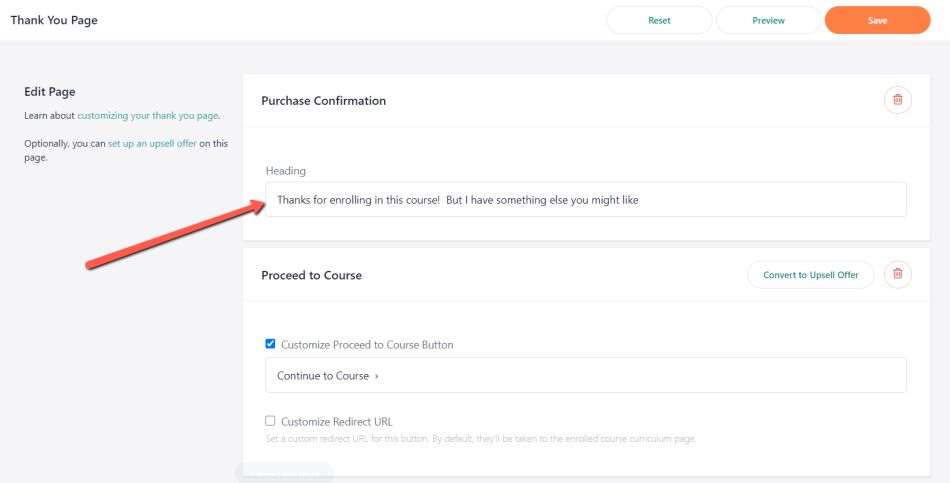 In my Heading Title I just simply wrote Thanks for enrolling in this course! But I have something else you might like…
This is a way to intrigue people to do the next thing, click to watch the promo video, and entice them to buy your other product.
#3 Embed a Promo Video
The next step is to add a promo video to thank them for buying your first course but also introduce them to your other course. Video is a much more personal way to share information and get infront of potential customers.
On top of that since you've sold to them once it's even more likely that they'll buy from you again.
To do this simply go the Video Embed section, and add your title, a brief description, and your video.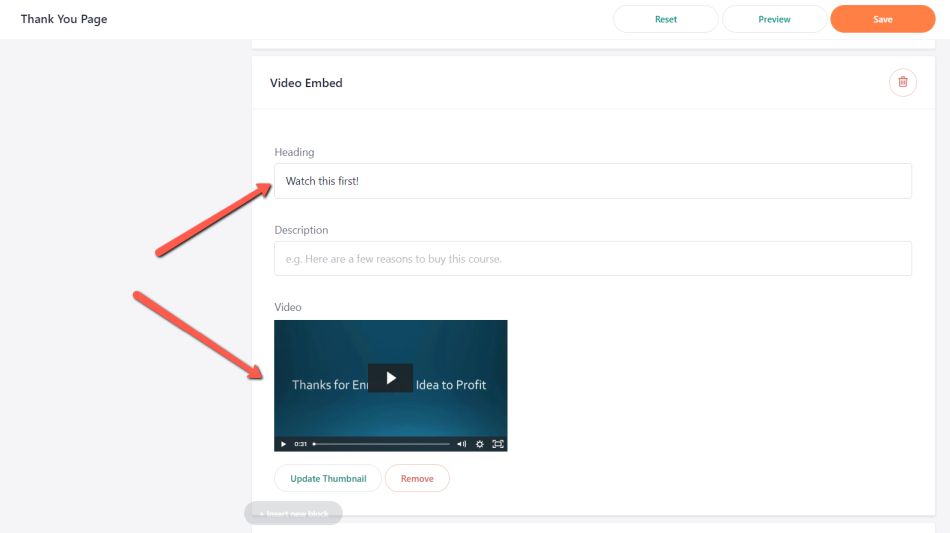 Overall you'll want to keep your promo video to about 1 or 2 minutes. Here are just a few things you should include in the video.
Give a brief thank you for the course they just bought.
Next tell them about your other course that you have.
Share why they may want to consider buying this course as well.
Give a coupon to entice them to buy now. A limited time 50% off coupon can turn a lot of lurkers into buyers a lot faster.
#4 Select a Price for Your Upsell
Your next step is to select the pricing for the course. When you click on the selection tab you should see a list of the current prices you're offering for the course.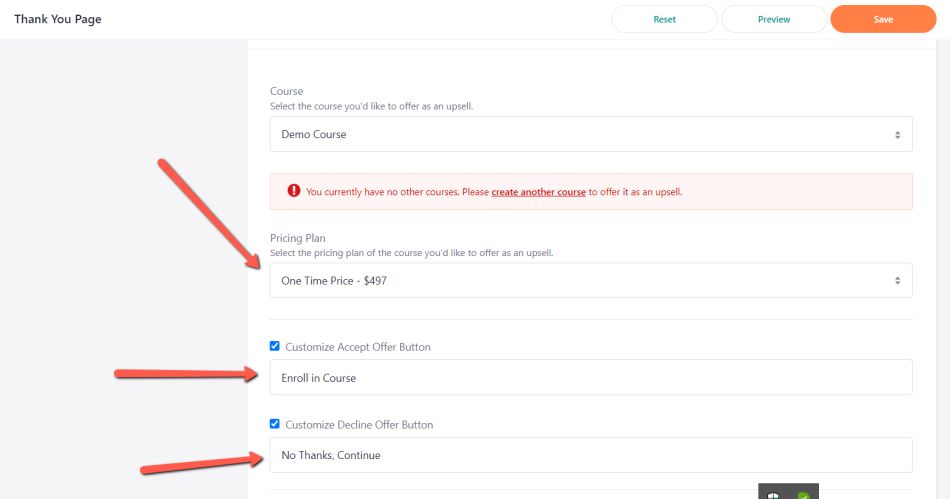 One thing to note here is that you can only choose one pricing plan here. So if you have a course that has a one-time payment option and a multiple payment option you'll have to select the one that best fits the situation.
For me personally, I like to go with a one time payment option. For example, if I sold them a course for $197, I could upsell them a course for $497. The reason I like this is because most upsells typically go up in price.
Teachable also gives you the opportunity below the pricing tab to change the messaging on the buttons to accept or decline the offer. I usually never change this but if you have a preferred way of saying this by all means change it.
#5 Hit Save and Start Up Selling
Now that you have your upsell all set up you'll need to preview it. You can do this by clicking the preview button in the upper right corner.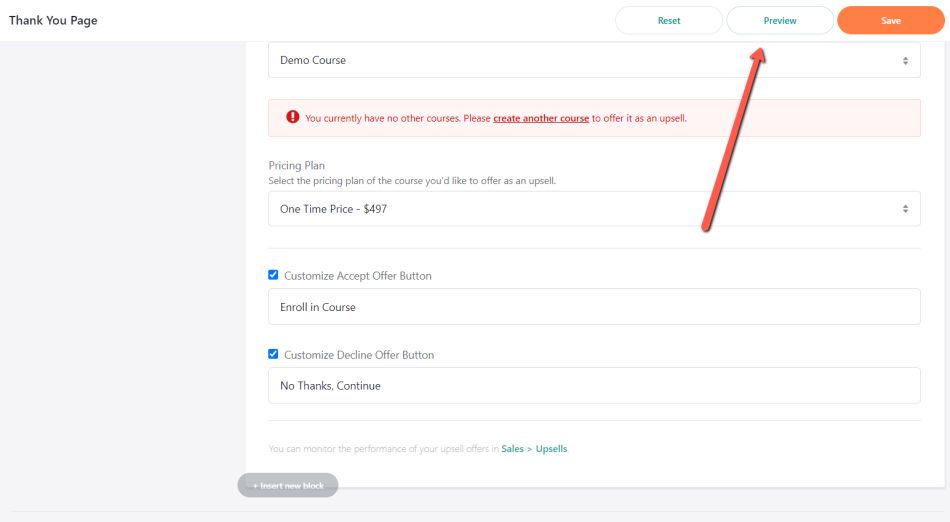 Once you've hit Preview you should see the the Thank You Page with the upsell on it. If something isn't correct make any changes necessary.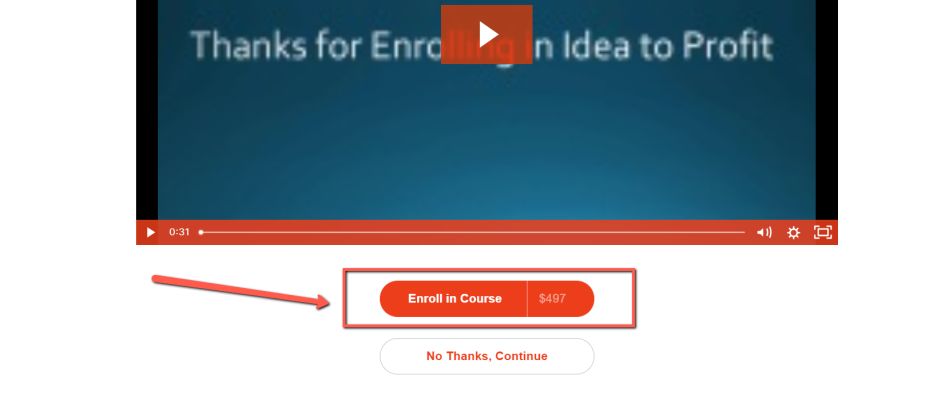 Finally, once you're satisfied with everything click the Save button in the upper right corner and you're ready to start selling, I mean upselling.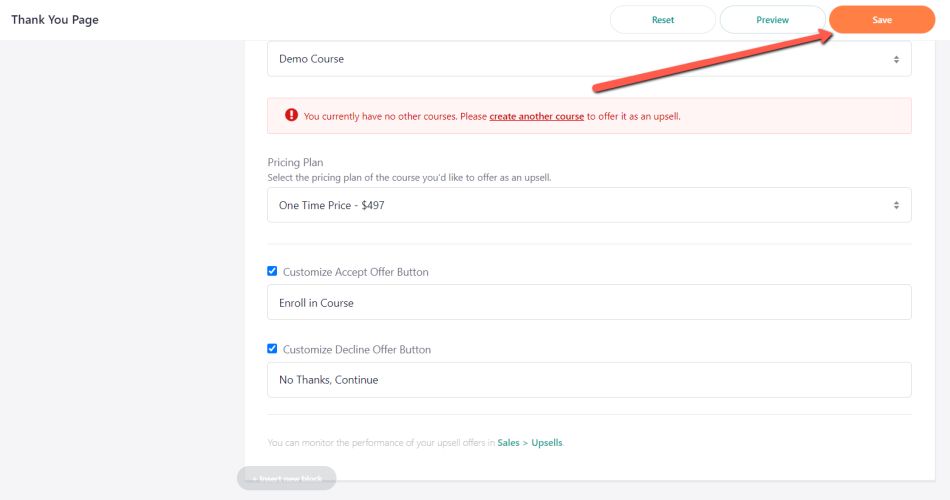 How to Make More Upsells – Quick Tip
Now that you've gone through the entire process of upselling on Teachable I have one more huge tip to help you make more sales on your upsell and that is to create a special coupon that gives a special discount to those who act now.
The idea behind this coupon is to get people to take action and buy now. For this, you might offer a 50% off coupon for a limited time. When you do this it gets people to take action much faster than if you were to just sell it at full price.
How to Create a Coupon on Teachable
First, click on the Coupons tab in the left-hand sidebar of the course you're upselling.
Second, click on Create a Coupon.
Third, click on This Course Only.
Fourth, enter a dollar amount or percentage off the course.
Fifth, Create a Coupon Name students will use to get the discount.
Sixth, Create an Internal Name to help you identify the coupon.
Seventh, list an expiration date.
Eighth, list how many coupons you'll give out.
Click Add Coupon.
Their you go, now you're ready to offer a special coupon to your students to help upsell more courses.
Why Upsell on Teachable
If you've made it this far in the article I'm hoping you've either already set up your first upsell offer or in the process of doing it. If you're not quite sure if upselling is right for you then this part of the article is for you.
Here are just a few reason you should upsell on Teachable if you haven't already.
#1 Higher Profitability
The most obvious benefit to upselling on Teachable is that it leads to more sales and more money than you would have never otherwise made if you would not have just asked for it in your thank you page.
McDonald's is one the first companies I know of that you use to do this by asking one simple question, "would you like fries with that?" That one little question made them millions of dollars over the years.
The worst thing that can happen is that you add an upsell and no one buys it. So with that alone its worth trying.
#2 Higher Quality Students
Another great benefit to offering an upsell is that it gives you a way to figure out who your higher quality students are.
If their is one thing I've learned about selling courses it's that the more a student pays the more likely they'll finish your course, and even buy more courses from you.
When you do an upsell, especially one that cost more, it will help you identify those that are serious and want to learn from you.
Later on, when you decide to offer high-end coaching, or courses you can email your top students who follow you and your brand and they'll likely buy your course.
Resource: If you want to learn more about this checkout Perry Marshall's book 80/20 Sales and Marketing.
#3 Easy Way to Show Off Your Courses
Finally, the last reason why you should offer an upsell is because it gives you a way to show off your courses to prospective students. Beleive it or not most students don't know all of the courses you have to offer.
Adding an upsell is a great way to show it off to them even if they don't buy. This at least lets them know you have it available for them to buy at some point in the future.
Like I mentioned at the beginning of this article, once you've made one sale you need to have something else for your students to buy. So take some time and start upselling on all of your courses today.