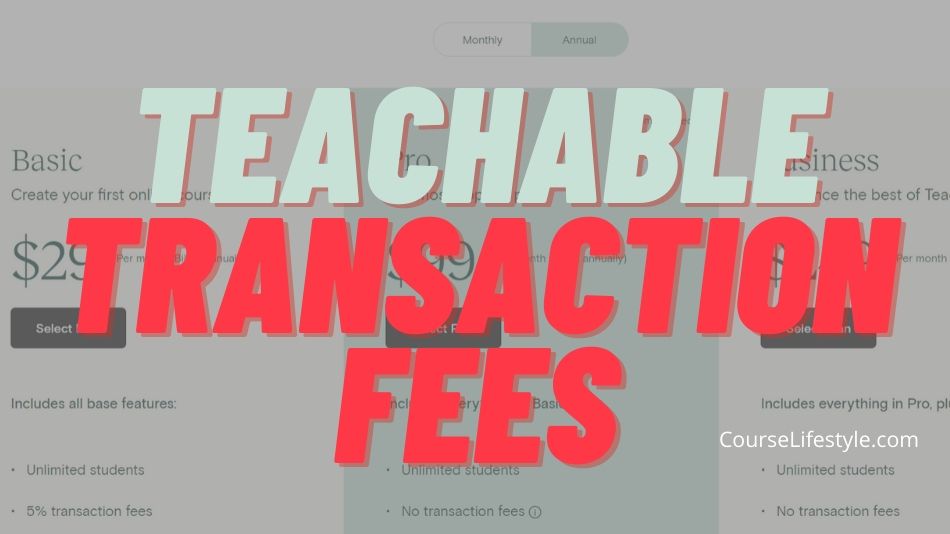 If you're like me you want to know what all the costs behind something are before you buy it. Signing up for an online course platform, like Teachable is no different. One particular cost these platforms earn money is through a transaction fee, which is usually a percentage of each course sale.
What percentage does Teachable take from each course? Teachable charges $1 plus a10% transaction fee if you're on the free plan unless the course is free there is no fee. If you are on the basic plan you will be charged a 5% transaction fee for every course you sell, and if you are in the Professional or Business plan there is no transaction fee.
So now that you know what Teachable charges you might be wondering why are they charging you this fee and how does this compare to other platforms around. In the rest of this article, I'm going to give you all the data to make an informed decision.
What Percentage Does Teachable Take For Each Course Sale
To help you better understand the transaction fee that Teachable charges here is a simple chart to help you out.
| | | | | | |
| --- | --- | --- | --- | --- | --- |
| Teachable | Free Course | Free Plan | Basic Plan | Professional Plan | Business Plan |
| Transaction Fee | 0% | $1 + 10% /sale | 5% per sale | 0% | 0% |
So now you might be wondering what is a transaction fee? Basically a transaction fee is charged on a per sale basis. So every time you make a sale on a course you'll have to give up a portion of your sale to Teachable depending on the plan you have.
I know this sounds like a lot but it really isn't. Compared to other platforms Teachable's fees are relatively low. I'll cover more on that in the next section.
To give you an example of the sales on my courses, I started on the free plan with on Teachable and sold my first course for $19. Overall I would earn around $15.33 per sale after transaction fees and credit card fees.
So overall I was only giving up $3.67. When it comes down to it that's the price of doing business online and if I could give up $3.67 to get $15.33 every time I'd do that all day long.
The other thing you need to consider here is that when you're starting out with your online course business its OK to give a little bit now to save on the monthly payments you would have otherwise been paying for in the higher tier plans on Teachable.
I started with the Basic Plan which at the time cost me $348 a year. If I were to go to the Professional Plan I would have paid $1188 a year. Staying on the Basic plan in the beginning saved me $840 a year. So I'll give a few percent of each sale to save me $840 right now.
However, at some point, it will be a bigger advantage to switch to the pro plan and cut out the 5% transaction fee. For example, if you're selling a course for $300 you save an extra $15 per sale. If you make a 100 sales on that course you'll make $1500 in extra profit.
What About Credit Card Transaction Fees
Before I move on their is one other type of transaction fee Teachable does charge and that is credit card transaction fee. This is a normal fee almost every payment processor with charge.
Here are Teachable's credit card transaction fees.
U.S. Credit Card, Debit,
& PayPal Fees
International Credit
and Debit Sales
International
PayPal Sales
Credit Card Fees
2.9% + .30 Cents
3.9% + .30 Cents
4.4% + .30 Cents
The reason I included these fees is because no matter which online course platfrom you are on or if you're using a specific payment processor such as Stripe, Authorize.net, or even PayPal you will have to pay these fees.
As I mentioned earlier this is the normal cost of doing business. Not to mention you don't want to do your own payment processing as a few percent is more than worth it to handle this.
Why Does Teachable Charge a Transaction Fee
So now that you know Teachable does charge a transaction fee based on the type of plan that you have you might be wondering why do they charge this fee?
While I don't know the exact reason why I can speculate as to why this is as am a business owner myself.
#1 Hosting
To start almost every course requires hosting space to host their content, videos, and more. This hosting cost money and isn't cheap. Video also takes a lot of bandwidth which requires servers and power.
#2 Employees
Teachable also employs a lot of people. This may be one of the biggest costs Teachable has to deal with. From Payroll, taxes, insurance, and retirement benefits I can only imagine how expensive this all cost.
Over the years I've run several businesses and hired employees and in one of my businesses I cover several employees under a group insurance plan and that alone cost me almost $40,000 a year.
Ouch!
#3 Rent
Finally, every business has a location and they either pay rent or a mortgage payment. Depending on the location it can be quite costly. To give you an idea in just my area a 15,000 storage building runs around $6000 per month to rent or $72,000 a year.
When you start to add up all of these cost you can start to see how things can get expensive. If they have just an overhead of a $100,000 a year and only charge $29 a month they would need almost 3500 people signed up to Teachable to just break even.
My guess is that their overhead is a lot more than that but you get the idea. $29 is not nearly enough unless you upgrade the Professional Plan.
How Do Transaction Fees Compare Across Other Platforms
Finally, you might be wondering how do these transaction fees stack up to other platforms. To illustrate this I'm going to compare the transaction fee and prices to show what other online course platforms are charging.
Udemy's Transaction Fees
Teachable and Udemy are very different from each other. Below are the current transaction fees they charge based on how the course is sold.
| | | | |
| --- | --- | --- | --- |
| Udemy | Instructor Promotions | Udemy Organic Sales | Affiliate Promotions |
| Transaction Fee | 3% | 50% | 75% |
Since Udemy does not charge to host your course on their platform their transaction fees can be much higher. So here is a quick breakdown.
Instruction Promotions – If you sell your course through your own blog or promote it on social media or your email list or any other way you will pay a 3% transaction fee and keep 97% of the money.
Udemy Organic Sales – Udemy's market place is one of the biggest reasons people put their courses on this platform. If you happen to sell your course through this marketplace Udemy will get 50% of the sale. This is fairly steep compared to Teachables fees.
Affiliate Promotions – If one of Udemy's affiliates sells your course then they will get 75% of the sale and you will only get 25% of the sale.
Overall I'm not a big fan of Udemy for this reason and several others but I'll leave that another article.
Thinkific Transaction Fees
Thinkific on the other hand does not charge any transaction fees for their courses, even the free plan, other than the normal credit card processing fees.
However since they don't charge a transaction fee they do charge more for their platform. Here's how this stacks up.
| | | | |
| --- | --- | --- | --- |
| Thinkific | Free | Basic | Pro |
| Transaction Fees | 0% | 0% | 0% |
| Monthly Cost | $0 | $49 | $99 |
Free Plan – The big upside to Thinkific is that they don't charge a transaction fee on any of their plans including their free plan. The only thing is you can't create more than 3 courses on the free plan. This plan isn't designed to run your whole course business on but rather to use as a test drive.
Basic Plan – The basic plan starts at $49 a month compared to Teachable $39 a month. Since they don't charge a transaction fee you're going to pay $10 more per month.
Pro Plan – With the Pro Plan it's actually $10 cheaper on the monthly plan starting at $99 a month, whereas Teachable runs $119 a month.
Kajabi Transaction Fees
The next option is Kajabi and they don't charge any transaction fees as well but as you might have guessed their pricing is much higher.
| | | | |
| --- | --- | --- | --- |
| Kajabi | Basic Plan | Growth Plan | Pro Plan |
| Tranaction Fees | 0% | 0% | 0% |
| Monthly Cost | $119 | $159 | $319 |
To start Kajabi does not offer a free trial but they do offer a 14 day free trial instead. As you might have guessed the Kajabi plans are much more.
Basic Plan – Basic plan starts at the same price as Teachable's Pro Plan. On top of that you can only create three products but with Thinkific allows you to create 3 courses for fee at least.
Growth Plan – The Pro Plan does not charge any transaction fees but runs $159 and only allows you to create 15 products.
Pro Plan – The pro pan also has no transaction fees but it runs $319 a month. Overall Kajabi does offer more features which is why they charge so much per month.
Who Has The Best Transaction Fees
Overall after reviewing all the transaction fees with the top 3 online course platforms I find that Teachable really has the best option with just a 5% transaction fee on the basic plan.
Thinkific would be my second pick even though it has a 0% transaction fee, I just felt the monthly fee was a bit higher than I wanted to pay.
The only option I don't recommend is Udemy. They charge the highest transaction fees and with the low course cost, they force you to charge I don't price on your courses.
So if you prefer Teachable you can sign up here for a free plan to try it out.
If you prefer Thinkific you can sign up for a Free Plan here to kick the tires.